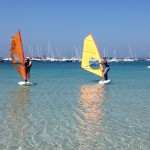 Course Information
This is the second part of the intermediate course, building on your skills to get the board planing. You will need to be competent with all the skills and knowledge of the non-planing course.
The course will focus on harness, foot straps and improving your stance to get the board planing, giving you the exhilaration of speed and improved theory knowledge. Suitable wind conditions will be required for some of this course.
If you have already passed this course or already have significant windsurfing experience, why not check out our advanced windsurfing course?