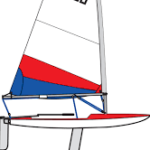 Course Information
Toppers are often the starting vessel for most people sailing single-handed. These are a fun learning boat and brilliant for children and adults a like.
Experience required
Must be minimum of level 2, able to rig, launch & recover in all directions of wind. Capsize recover and sail upwind.
Before hiring any equipment with us, please check our required experience policy and discuss your requirements with our staff to make sure you won't be disappointed.