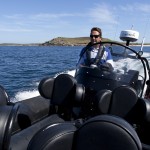 Course Information
On successful completion of this two-day course you will receive the RYA Powerboat Level Two certificate, which is now classed as the national certificate of competence. The objective of the course is to give you an introduction and good grounding in the basic knowledge and skills required to handle a powerboat safely and effectively. It is our aim that at the end of the course you will have the confidence to use a powerboat in suitable conditions safely.
This course is available to ages 14 upwards. 16 years and under will be issued with an endorsed certificate. 
The stunning scenery and quiet un-crowded waters of Scilly combined with the opportunity to navigate between the different islands makes this a superb venue for the course. No previous experience is required and it is not necessary to have completed level one prior to taking this course.
The course will include:
Safety equipment

Boat Preparation

Passage planning and pilotage

Emergency action plans

Boat controls and hull design

Basic boat handling

High and low speed manoeuvres

Man over board

Collision regulation (IRPCS)

Charts work, weather and tides

Anchoring

Boat management
There are elements of high speed work in the course but this is a boat handling course not a speed boat driving course.
These courses are available at both our sites but we book through St. Mary's for this so pleas ensure you state if you are on Tresco or another island.