Small Motor Boats
Small stable and very simple to use.
These boats are perfect to take to the water and explore for yourself, popping to different beaches and enjoy time afloat with the family.
Little experience is required for these boats. They are all open boats powered by 4hp-6hp outboard engines. Weather and seas conditions and your personal experience will set the area that you are able to go in these boats for your safety.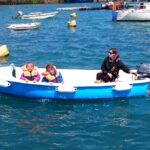 Blue Boat
Stable seaworthy perfect for a simple family outing. Suitable for 5 adults or 4 adults and 2 small children. She is an open boat with 6hp engine, perfect for a leisurely trip, exploring. She is 16ft and quite heavy so kept afloat on a mooring. 3 hour     £80   Day   £120    3 day    […]