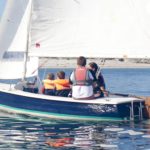 Course Information
A one or two hour session is perfect as a trial or taster to introduce you to sailing. A quick introduction and straight a float to get you to experience the thrill of moving under sail, with maximum time afloat. Your instructor will show you the basics and hopefully get you taking the helm.
Perhaps you have sailed before and are a little rusty and just wish to have an instructor with you to get your confidence back or build on previous experience.
Each session can be timetabled to fit in around your holiday plans and can accommodate 3-4 persons with an instructor.
Our 1 hour sessions are great for little ones or to see if you want to do more before committing to a full course.
Please inform the instructor at the start of your sessions or when booking if you wish to follow the RYA syllabus and aim towards certification.