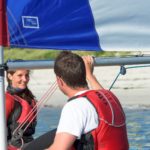 Course Information
This aims to introduce you to the sport of sailing. The course covers all the basics to get afloat and have as much fun as possible and hopefully inspire you to take up sailing regularly. The course starts in larger dinghies with the instructor on board, as the course and your ability develops we may move into smaller single handed boats if conditions, abilities, and desire is there to do so.
The course will cover the following:
Basic Rigging and parts of the boat
Sailing techniques & manoeuvres: upwind, downwind.
Tacking, gybing and reaching.
Simple rope work & knots.
Launching and recovery.
Theory subjects: Meteorology, Capsize recovery, rules of road.