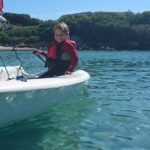 Course Information
The youth scheme is designed for 8-16 year olds and runs in conjunction with the RYA national sailing scheme, but has been broken down into smaller more manageable sections for junior sailors.
Stage 1 course starts with initial introduction to sailing and taking the students afloat in dinghies with instructor. Each stage then builds upon the students ability as they progress.
Doing these courses as part of a group is a great fun way to learn to sail whilst making friends. For children under 11 years, sessions of an hour at a time rather than a full 2 day course is advisable if wanting to have private sessions. It is not always an equal step up between stages and often more practice time and experience needs to be developed to gain the next level.
We try to ensure that all students are of similar ability on each course, so please provide the previous experience of your child when booking. Please state the level they may have obtained and whether they were sailing in a group and using single handers etc.
Please be aware that we do not do certification for attendance of a course as at some centres where large group sessions take place. We will happily sign off all sections of a log book and syllabus as they are completed so that the student can continue at another centre.