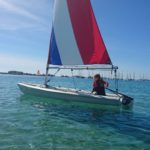 Course Information
The Laser Pico is an excellent learning boat, simple, robust and responsive and a lot of fun to hire. Easy to reef and plenty of room for two or an adult and child the boat also is able to take a small jib to give your little crew some work.
Experience required
Must be minimum of level 2, able to rig, launch & recover in all directions of wind. Capsize recover and sail upwind.
Before hiring any equipment with us, please check our required experience policy and discuss your requirements with our staff to make sure you won't be disappointed.