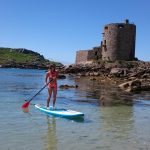 Covid 19 Update
Difficult times for all of us and we hope you have managed to stay safe and well during this period. Scilly has, to date remained Covid free and we are very grateful for this and hope it stays this way.
We plan to be open and running both on St. Mary's and Tresco on July 6
Things will certainly be very different this summer and we are awaiting confirmed guidance from the government and our governing bodies (RYA etc) as to how we can implement these latest measures and operate within the regulations and keep you and our staff safe.
At present social distancing rules mean that the tuition of sailing and powerboating is not possible. Initially we will only be offering hire of kayaks, Sups and dinghies. As we move on and get comfortable with the new working procedures and our instructors have been able to travel to the islands and undergone retraining we hope to be able to offer more equipment and more activities. We will keep you posted on this.
For further information on some aspects to expect when joining us please see our Covid 19 Customer Notice  for details on "Endeavour" please see Covid 19 Endeavour.
We are currently not taking bookings, but ask that you email us with your requirements and dates so that we can formulate a plan. As soon as we are provided with dates and guidance on what can be done we will then make a plan as to what we can offer and get in touch to make your booking.
Thank you for your patience.