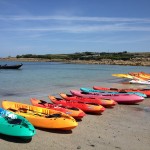 2021 Covid Update!
Lets hope this is our last Covid update!!!
All is looking a lot more positive for the season. Scilly has had its first load of visitors with the ease of lock down in April and as we approach each further step of the governments relaxations we look forward to welcoming more.
We are busy running Endeavour trips and getting set up currently. We are available now for hires of some equipment at St. Marys and Tresco and our Tresco site will be open and running for half term holidays.
Social distancing rules still prevent us from operating to full capacity and prevent us from offering some activities.
We are hopeful that Boris will announce an end to social distance rules in June, but until then we have to plan to work within these rules. These are government rules and our governing body, the RYA, insists we operate in a certain way to comply. We are taking bookings for the season, but only for activities that we can safely operate within these guidelines. As they change we will take further bookings etc.
The pandemic situation has obviously effected us all massively. Not so obvious are the knock on affects which have altered the way we can run our business and provide services to you even if all restrictions are lifted. The situation has meant we have lost several long established staff accommodation units we rented, so we are unable to employ our usual number of instructors.
As a result we will have less capacity this year. Huge increase in demand for leisure equipment and issues with supply to the UK has meant there is a massive shortage of equipment such as wetsuits, kayaks, SUPS etc world wide. So please be considerate if we are unable to offer you exactly what you require.
We will endeavour to operate in a covid safe way for you. All equipment and areas are sanitised regularly, hand wash is available and we ask that you wear face coverings at all times when in proximity of our staff or upon entering the centre. We are currently unable to provide changing facilities so you must arrive prepared.
Endeavour Rib: We are offering all our trips though on reduced numbers. Water Taxi, perfect to travel between the islands without the crowds!
Hires
Kayaks, sups, motorboats and dinghies remain unaffected. We have to quarantine wetsuits for 72 hours after use so we have very limited availability and may not be able to supply for lessons.  Minimum hire unless taking part in tuition is 3 day hire. We do sell wetsuits, though have very limited stock.
Windsurf & SUP Instruction: We are offering basic tasters and beginner to low intermediate sessions, 1:1 or groups.
Sailing Instruction: We are unable to put instructors in the same boat as students. So this makes teaching beginners and small children a real challenge. Due to this all tuition will be done in small single handed boats (Picos etc) with instruction from the instructor in another craft. All beginner students must be 12 or over or accompanied afloat by someone who is, there is a high chance of capsize, so important the student has the size and water confidence to cope..  There will be no shared or double handed boats unless the persons are from the same "bubble" etc. Each session will have a longer shore based briefing than normal to enable you to take to the water safely. A parent/responsible adult must be available to assist with moving equipment for any children involved in lessons or hires and must remain present at the beach throughout.
Sail Camps: We are taking bookings for these but on reduced numbers as we can not have students from different "bubbles" in the same boat.
Splash Squad: These are open for bookings on reduced numbers but will very much depend where we are with the rules.
Powerboat Instruction: We are currently running some trial tuition course with groups of the same bubble, and hope to offer these in due course.
Kayak Tours: We will be running these as normal.
Many of our sessions and hires can be booked online either by following the link on the "Contact Page", if you do not see what you would like then please email or call us.
Please remember that while you are here on holiday the rules still apply, and while it may be frustrating that we cannot offer you certain services you would like, please for a moment just think how frustrating it must be for us and our staff to not be able to offer these services to you and the effect that may have on our staff and business  long term. So please be kind we don't like the rules or situation either.
We look forward to welcoming you and getting you afloat.