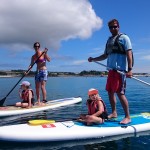 October Half Term 2020!!
Normally we have packed up and gone into hibernation. Nothings normal in 2020!
So we will be opening back up to hopefully offer you a few activities and a service while you are here on holiday for  the October half term holidays!!
All is very much dependant upon the weather and we will be operating with just a couple of us so we will not be able to offer all that we would in the summer months.
Initially we plan to open Tresco & St. Marys on set days only depending on demand between October 19- 28. We will not be manning the Tresco base daily and may alternate between St. Marys and Tresco so it is vital that you book in advance where possible. Booking in advance will also allow us to gauge interest and possibly offer more activities.
We will be offering the following:
Water sports:
Hires of Kayaks, SUPs, Pico's & motor boats. These will be available for normal rental periods on all days we are open and long hires (several days) for the whole holiday break.
Sailing Lessons by the hour in small single handers as per details in our previous news pages due to  Covid restrictions.
Please bring your own wetsuits. We have very few left after the season and due to pandemic, supply to replace has not been possible, so unlikely to be able to provide any.
Keep check on our Facebook pages for updates:
Endeavour
Endeavour will be running throughout, offering our Marine Life Trips, Rib Blasts and fast water taxi service between the islands. As it is a little cooler now why not do our shorter "Seal Express" (approx. 50min) trip down to view the seal colony, this trip is perfect for families with smaller children.
As always all our trips can pick up and drop off to any off-islands, please put this on your booking (please note additional fee may apply).
We will schedule trips shortly and add more nearer the time when we have favourable weather forecasts.
Ameila Mills Island Fitness
Amelia will be offering her personal fitness training sessions, either private 1:1 or join one of her action packed fun beach hiit or circuits sessions, alleviate some guilt so you can have more cake while on holiday!!
Contact Amelia direct: ameliamills5@gmail.com or call 07796132663 or Amelia Mills Fitness Face Book Page
Please book online, email or call us to book. If you do not see what you wish available online drop us an email and we will see what we can organise for you.
Look forward to seeing you all in October!!