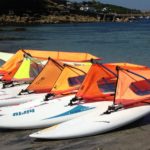 Course Information
With stable boards and light training rigs to make learning easy. Our windsurfing taster session is designed to get you up and going as quickly as possible. The session starts ashore on the training simulator before heading on to the water. By the end of this lesson, the aim is to be on the water more than you are in it.
We offer 1 or 2 hour taster sessions. We recommend a two-hour session for complete beginners (14 years up) to give you enough time to have a fair go at it. We set no age limits for windsurf instruction but do find that children under 11's tend to struggle with the size of the equipment and so do not recommend sessions for them.  Under 14's we recommend only an hours session
We also offer instruction for the RYA National Windsurfing Scheme. Please check the Windsurfing courses page to see other the courses that we have available.